Did you know that FIA (Federation Internationale d'Automobile) not only regulates over cars or teams? This organisation regulates aspects as diverse as roads, Road Safety or environment.
But, how this organisation, non-profit body, has achieved dictating the international regulations of motor spheres? It hasn't been an easy road, it all started with baron van Zuylen van Nyevelt, a Belgian banker born in 1860, son of a well respected family of ambassadors and statesmen.
The same year when baron von Zuylen von Nyevelt was born, another Belgian named Etienne Lenoir patented the first gasoline vehicle. The problem was that the motor weighed 20 tons and only reached 2 km/h, which caused a great frustration to its creator that ended up abandoning the project.
His idea was not forgotten and many engineers all over the world started to patent their "cars". France and the United States were two countries that focused heavily on this new technology.
Baron von Zuylen von Nyevelt, who was married and lived in Paris at that time, distinguised the potential of those new machines over horse-drawn carriages, especially when covering long distances internationally (remember he came from a family of ambassadors). With a modern thinking, at that time he was 35 and in 1895 he decided to establish, with Albert de Dion and Paul Meyan, the first fan club of combustion cars: Automobile Club de France (ACF).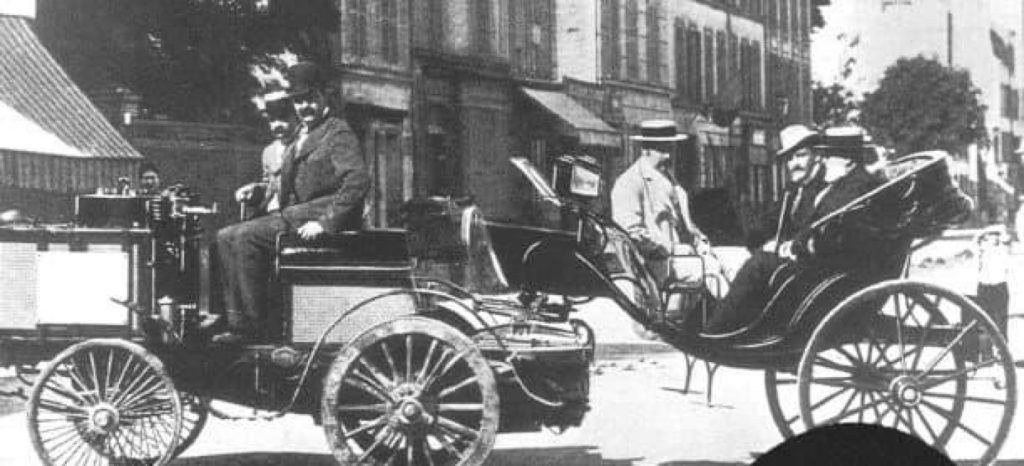 Photo: Baron de Zuylen de Nyevelt, Albert de Dion and Paul Meyan. Year 1895
This was, and still being, a men's club that had an enormous success. Zuylen von Nyevelt was its president and popularized it to such an extent that other countries started to copy his example. These clubs were basically social clubs, where many high class people gathered to share ideas and businesses.
In June 1904 from ACF (Automobile Club de France) it was proposed that it will be interesting that all automobile clubs created in other countries gather together and they established Association Internationale des Automobile Clubs Reconnus (AIACR). From whose baron von Zuylen von Nyevelt was also its first president.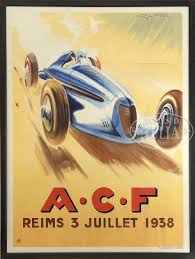 In 1906, always avant-garde ACF organized the first car race. Despite World War I, the success and growth of competitions and fans all over the world was such, that in 1922 it was decided to create an autonomous comitee that will manage only the races, independently of the acts of AIACR itself. This new comitee was called Commission Sportive Internationale (CSI).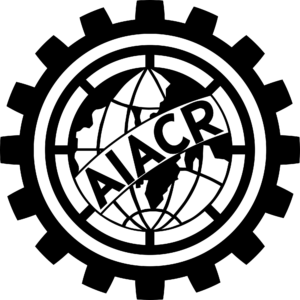 In 1928, Jehan de Rohan-Chabot, doctor by profession and fighter pilot during the war, became Automobile Club de France (ACF) new president, a position he occupied during 20 years. In 1936, 8 years later, he was also elected as AIACR president, a position he occupied during 22 years. His figure was key because he achieved to buoy both organisations up during German invasion in World War II, preventing Nazis from taking control or simply dissolving them. A year after WWII, in 1946, Jehan de Rohan-Chabot refounded the organisation that became FIA.
But it wasn't the FIA we know nowadays. By then FIA was an international automobile federation that didn't manage any sport event. This function still being performed under CSI (Commission Sportive Internationale) organisation, that after war subsequent years it took control over the most important international races, like rallyes, tourer and Formula 1 (1950).
With the arrival of communication media, income did also appear. At the beginning of the 70s, the teams participating in Formula 1 World Cup associated under the direction from the British Bernie Ecclestone and created a constructor association named FOCA (Formula One Constructor Association). Its intention was to influence over the technical rule and also to distribute the increasing "economic cake." Its pressures and threats reached the point to pose a parallel championship, of which a race took place, South Africa Grand Prix. Without much success, by the way.
In 1978, in the middle of the ferocious war between CSI and FOCA, the newly elected president Jean-Marie Balestre changed CSI name, which became Fédération Internationale du Sport Automobile (FISA).
The war between FISA and FOCA lasted more than 10 years and set a very difficult period for F1 single-seater championship. Until 1981 through the so called Concord Agreement (because of Paris' Concord Square), FISA remained the faculty of technical and sport regulations, and ceded part of publicity rights to the teams (FOCA).
In 1986, ex-pilot Max Mosley was chosen as FISA's president, a charge he left in 1991 when he was chosen FIA's president. Max knew how to deal with pressures and economic interests and propitiate a restoration that led to the absorption of FISA by FIA, coming back to its starting point at the beginning of the 20th century, when AIACR was the only organism in charge of federations and competitions.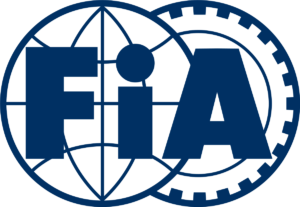 Nowadays FIA, directed by multifaceted Jean Todt, is a modern organisation that covers and controls multiple championships and legislations of automotive world. Among the most prominent current world championships there are:
Formula 1
Formula E
WRC
WTCR
WEC
KWC
WRCC
WRX
FIA GT World Cup
FIA F3 World Cup
Blancpain GT Series
Without mentioning more than 50 international and regional championships also managed by this organism, of which it legislates over aspects such varied as: how racing pilot's dress shoud be, the safety of circuits or roads where races take place, medical aspects related with pilots' and audience's health and safety, environmental impact of the events, etc.
And although not free of controversies, FIA is a needed organism in motor world, which by its.