Rally discipline is one of the hardest on physical aspect, because there are several competition days, many hours inside the car and very different climate conditions. Rally pilots can drive through at 12am through mythical Col de Turini at -10ºC and snow, or through Bauxite's section, in Greece, with an unbearable heat and full of dirt and dust.
For pilots there is not going to be any difference in the clothes they are going to use while racing because FIA racing overall, gloves, underwear and boots are going to be the same in all the rallies of the seanson.
If pilots wear comfortable clothes before and after a race. Why not during it?
In Marina Racewear we asked a question: If pilots wear comfortable clothes before and after a race. Why not during it? We found the answer and we explain it up next.
For pilots to be as comfortable as possible in all scenarios, it is interesting that clothing are comfortable and adapt at most to the pilot's needs.
In Marina Racewear we have worked to make pilot's comfort the most important thing, developing an overall, with FIA 8856-2000 type approval, composed by a 44% of natural fibers and 100% elastic.
Natural fibers are going to bring a pleasant touch like a cotton t-shirt as well as a high transpiration, a very interesting thing in order to not accumulate sweat inside the overall and we have cold on winter, or hot and hot flashes on summer. We are interested that corporal heat keeps constant in order to not getting an excess of fatigue and this leads pilots to not perform with the same capacity as they should on a regular situation.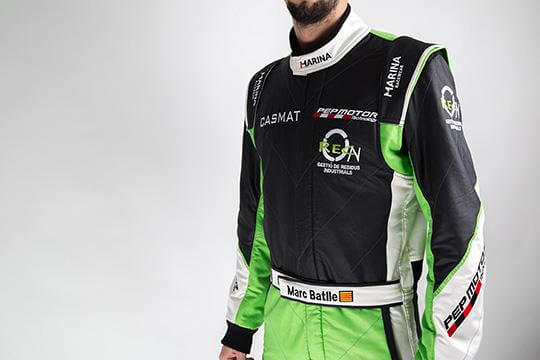 And as we already said, FIA overall for rally developed in Marina Racewear, has the particularity of being the first 100% elástic overall in market.
Elast1 technology, developed by Marina, allows the overall to have this feature and this leads to a superior comfort because the overall is going to adapt to many possible situations like piloting, outside the car, changing a wheel, or whatever rally polots can find. Not having inconveniencies when doing these movements is going to mean a higher working easiness.
​