When we talk about FIA underwear, we refer to balaclavas, socks, underwear top and underwear bottoms.
Rally's pilots look on those garments mainly the comfort because it belongs to the part of their garments which are in direct contact with skin.
Although comfort is a very important factor, the protection contributed by underwear is also crucial to completa maximum security in addition to their FIA overall.
To check that the underwear meets FIA 8856-2000 type approval, is crucial to do a series of tests to all the fabrics composing the underwear. Those tests are going to be done over 3 samples of every underwear's original fabric and over 3 samples of every wet-laundered fabric.
Hereunder, the tests done on FIA underwear are explained:
Dimensional stability: This test is done after five washes of the same fabric to check original measures are maintained. This way, pilots are ensured that their FIA underwear is not going to shrink after washing it.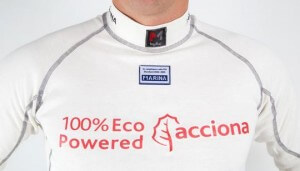 Horizontal position flame: To determine the behaviour againt fire of FIA underwear, a flame is applied during 10 seconds perpendicularly to the fabric, later the flame is withdrawn and check if the fabric does not burn more than 2 seconds. In addition, the flame mark over the fabric is observed. This way the behaviour of FIA underwear before fire is determined, i. e., if it will be flame retardant or not.
Both for bataclavas and for pants and handle t-shirts it is needed to do both tests, for the socks the horizontal position flame test is only needed.
Marina Racewear has created a collection of underwear for competition with FIA type approval and a unique composition of 44% cotton and 54% modacrylic, which brings a high comfort when used.
In order to customize FIA underwear, you could send us your logos and we will send you a design proposal which adapts to the team's corporative image. Once the order is done, in Marina Racewear we start working to transfer the user's design into reality.
Solicit us your design proposal of FIA underwear without any commitment.