In Marina Racewear we develop products with the aim of offering flame retardant garments that are comfortable, resistant and protective in case of an accident. Daily, we do tests and trials to certify their quality, thereby you only obtain the certification of FIA (Federation Internationale de l'Automobile).
In parallel, we submit our products to tests in external laboratories with ENAC certification (Entidad Nacional de Acreditación) and under AITEX (Textile Research Institute) supervision, with results so successful that we don't doubt to share with our clients.
One of the latests tests is the one we show you through the video "Marina Racewear Mannequin Test", where we test the fire resistance of M2 underwear range of Marina Racewear, as well as the new competition overall Marina AIR, during a continuous fire exposition during 4 seconds.
The test we do is reference to regulation ISO 13506:2017 tittled:
PROTECTION CLOTHING AGAINST HEAT AND FLAMES – COMPLETE GARMENTS METHOD – BURN PREDICTION BY USING AN INSTRUMENTED MANNEQUIN.
The tested products are Marina AIR overall, composed by three layers, and M2 underwear. The function of this set is to cover torso, neck and superior and inferior limbs, except for hands and toes.
Referring to the equipment which with the test is done, it is important to highlight that 12 high power burners are used, 6 of them surround and target legs to waist directly and the remaining 6 surround and target from abdomen to head. In total, they develop a power of 80 kW/m2 (average density of heat flow).
The sensors attached to the mannequin measured an initial skin temperature 32,5ºC, and besides the strength of the burners, the sensor revealed that at the end of the test the skin had a extraordinary low temperature: 41,7ºC.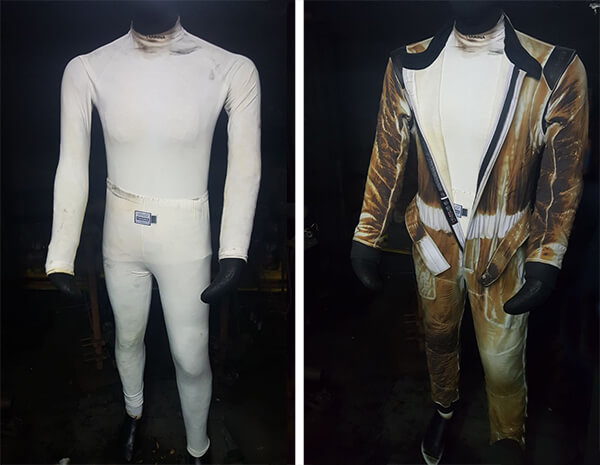 The obtained results are the following: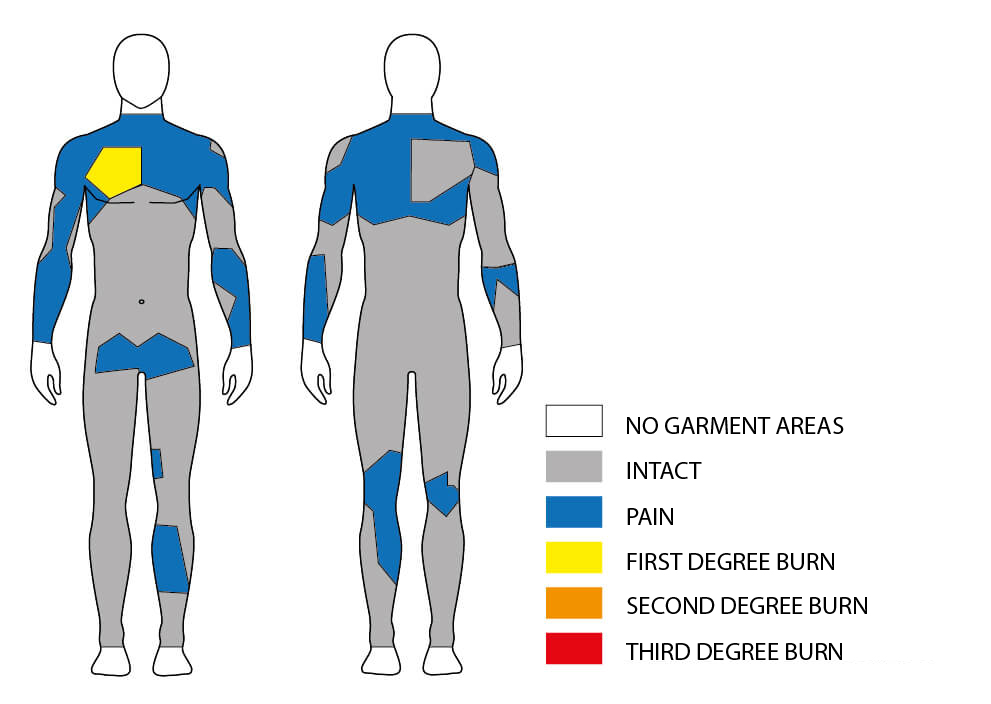 BURNS:
| | | | |
| --- | --- | --- | --- |
| Sensor/temp. | First Degree | Second Degree | Third Degree |
| Chest | 0,0% | 0,0% | 0,0% |
| Abdomen | 0,0% | 0,0% | 0,0% |
| Higher back | 7,7% | 0,0% | 0,0% |
| Lower back | 0,0% | 0,0% | 0,0% |
| Left arm | 0,0% | 0,0% | 0,0% |
| Right arm | 0,0% | 0,0% | 0,0% |
| Left leg | 0,0% | 0,0% | 0,0% |
| Right leg | 0,0% | 0,0% | 0,0% |
| FULL MANNEQUIN | 0,9% | 0,0% | 0,0% |
TEMPERATURE AND TIME

| | | | |
| --- | --- | --- | --- |
| Sensor/temp. | Initial Temp. (ºC) | Final Temp. (ºC) | Maximum Temp. (ºC) |
| Chest | 30,9 | 44,4 | 57,8 |
| Abdomen | 29,6 | 39,1 | 51,7 |
| Higher back | 31,3 | 47,9 | 62,4 |
| Lower back | 30,2 | 40,6 | 51,0 |
| Left arm | 29,1 | 44,9 | 57,2 |
| Right arm | 29,4 | 44,2 | 67,8 |
| Left leg | 28,3 | 38,1 | 52,3 |
| Right leg | 28,7 | 40,2 | 61,8 |
| FULL MANNEQUIN | 29,5 | 41,7 | 67,8 |