Every day we are far from the idea that motor sports are a man's thing, although historically the femenine figure as pilots, team members or leaders has always been rare. Now things have changed and women pressence competing, especially on the Karting and Racing disciplines, is raising. So much so that Federation Internationale de l'Automobile created in 2010 the Women Commission and Motor Sports.
Women from Fia competition speres no longer need to dress with man's clothes.
During a race there are many factors that influde in the pilot's performance, one of them is the clothing they wear. Marina Ladies competition overall for women, by Marina Racewear, is a garment with FIA 8856-2000 type aproval, developed and designed exclusively to adapt to woman's body using femenine sizes and patterns with the aim of getting the maximum level during competition. Tailores with high rendiment fabric Elast 1® 100% elastic, Marina Ladies femenine overalls offer an excellent combination of transpiration and lightness to minimize fatigue. In addition, it has elastic pannels  in the lumbar area and axila that bring a higher comfort, softness and protection. This way, the feedback between body and mind raises, improving the precission and efficency of movements.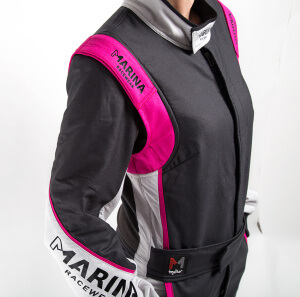 You can visit our website and know about the femenine FIA competition overalls and discover that you could also customize them totally or, if preferred, you could send us an e-mail to info@blog.marinaracewear.com and we will resolve any of your doubts.